General characteristics of the foreign economic relations
Ph. D. Mikhail N. Semyakin

Ural State Law University. Yekaterinburg

Ph. D. Anna Gubareva

Ural State Law University. Yekaterinburg

Ph. D. Kseniya Kovalenko

Altai State University. Barnaul
Resumen
The author in this article reveals the developmental features of foreign economic relations that arise regarding the implementation of foreign economic activity and about its state regulation, carried out their differentiation, are determined by their objects, the range of subjects, content and grounds for the emergence and termination. The author tries on the basis of this research to develop on the basis of comparative analysis and dogmatic proposals for optimization of the normative regulation of foreign economic relations in Russia, as well as to formulate proposals to optimize the taxonomy of legal acts and explore the features of the external economic legislation, formulate proposals for a better implementation of the foreign economic activity of economic entities.
Keywords:
Foreign economic activity, foreign economic relations, private law and public law relationship.
RESUMEN
El autor de este artículo revela las características del desarrollo de las relaciones económicas con el exterior que se plantean en relación con la ejecución de la actividad económica exterior y sobre su regulación estatal, llevado a cabo su diferenciación, son determinados por sus objetos, la gama de temas, el contenido y los motivos de la aparición y terminación. Los intentos de autor sobre la base de esta investigación para desarrollar sobre la base del análisis comparativo y propuestas dogmáticas para la optimización de la regulación normativa de las relaciones económicas con el exterior en Rusia, así como para formular propuestas para optimizar la taxonomía de los actos jurídicos y explorar las características de la legislación económica externa, formular propuestas para una mejor implementación de la actividad económica exterior de las entidades económicas.
Palabras clave:
La actividad económica exterior, las relaciones económicas con el exterior, derecho privado y la relación de derecho público.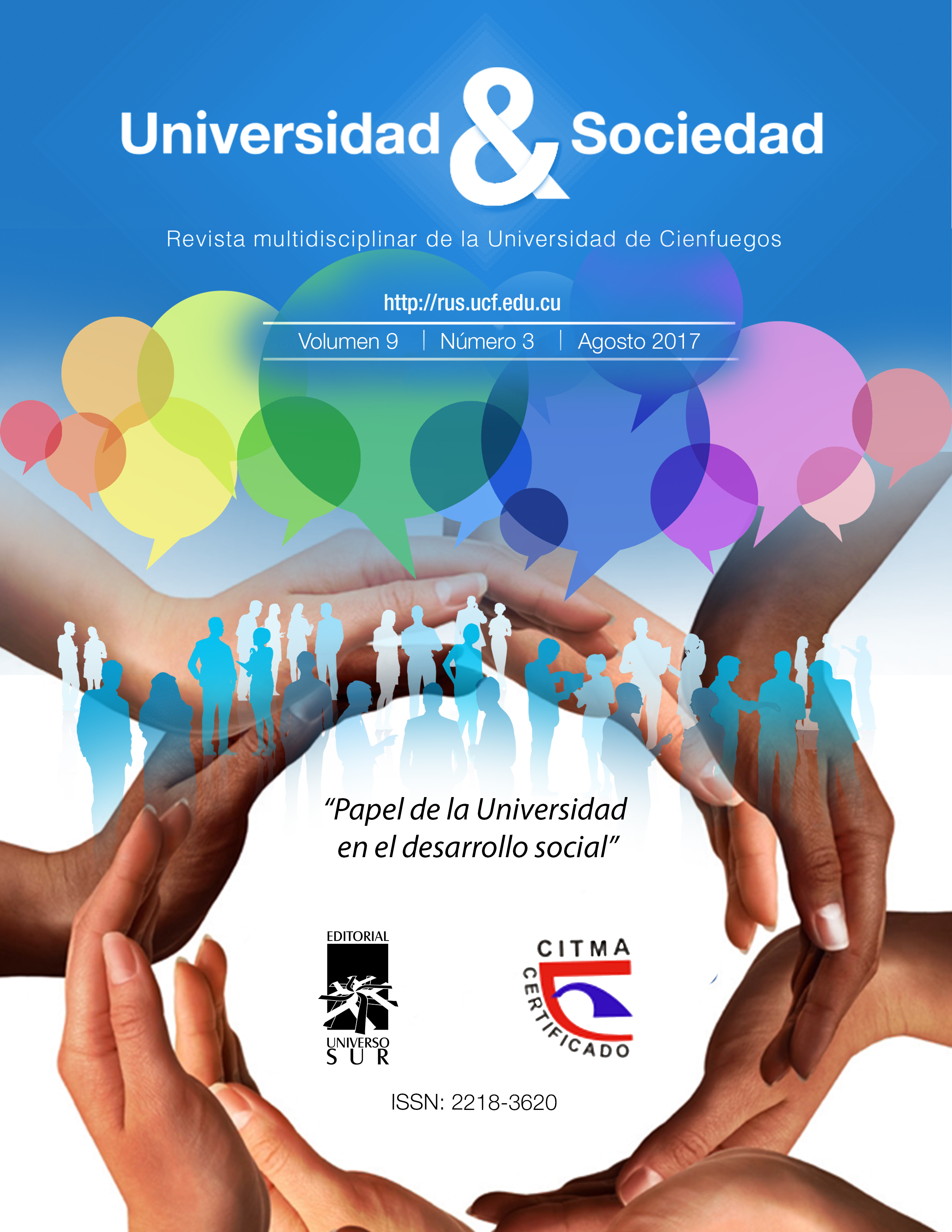 Cómo citar
Semyakin, P. D. M. N., Gubareva, P. D. A., & Kovalenko, P. D. K. (2017). General characteristics of the foreign economic relations. Universidad Y Sociedad, 9(3), 122-124. Recuperado a partir de https://rus.ucf.edu.cu/index.php/rus/article/view/617
Esta obra está bajo licencia internacional
Creative Commons Reconocimiento-NoComercial-SinObrasDerivadas 4.0
.
La editorial "Universo Sur", de la Universidad de Cienfuegos, publica el contenido de la Revista "Universidad y Sociedad" bajo una Licencia Creative Commons Atribución-NoComercial-SinDerivar 4.0 Internacional.
© Podrá reproducirse, de forma parcial o total, el contenido de esta publicación, siempre que se haga de forma literal y se mencione la fuente.