Problems of implementing distance learning technologies in classical choreographic education
Resumen
Special choreographic disciplines in the classical system of professional training of ballet dancers are traditionally studied exclusively through the contact work of teachers with students, which is determined by the need for direct demonstration of the studied elements and immediate correction of incorrect performance. In the context of the introduction of restrictive anti-epidemic measures, the forced introduction of distance learning requires the search for optimal ways to implement classical choreographic education without losing the quality of training. In this research it is analyzed an experimental study of the possibilities of correcting the organizational and pedagogical conditions of choreographic education when using distance learning tools at the Moscow state Academy of choreography which allows to identify the best ways to implement the educational process with elements of electronic distance learning technologies.
Keywords:
Distance learning, choreographic art, digital technologies in training, choreographic education.
RESUMEN
Las disciplinas coreográficas especiales en el sistema clásico de formación profesional de los bailarines de ballet se estudian tradicionalmente exclusivamente a través del trabajo de contacto de los profesores con los estudiantes, que se determina por la necesidad de demostración directa de los elementos estudiados y la corrección inmediata de la actuación incorrecta. En el contexto de la introducción de medidas restrictivas contra la epidemia, la introducción forzada del aprendizaje a distancia requiere la búsqueda de formas óptimas de implementar la educación coreográfica clásica sin perder la calidad de la formación. En esta investigación es analizado un estudio experimental de las posibilidades de corregir las condiciones organizativas y pedagógicas de la educación coreográfica cuando se utilizan herramientas de aprendizaje a distancia en la Academia Estatal de Coreografía de Moscú que permite identificar las mejores maneras de implementar el proceso educativo con elementos de tecnologías electrónicas de aprendizaje a distancia.
Palabras clave:
Aprendizaje a distancia, arte coreográfico, tecnologías digitales en formación, educación coreográfica.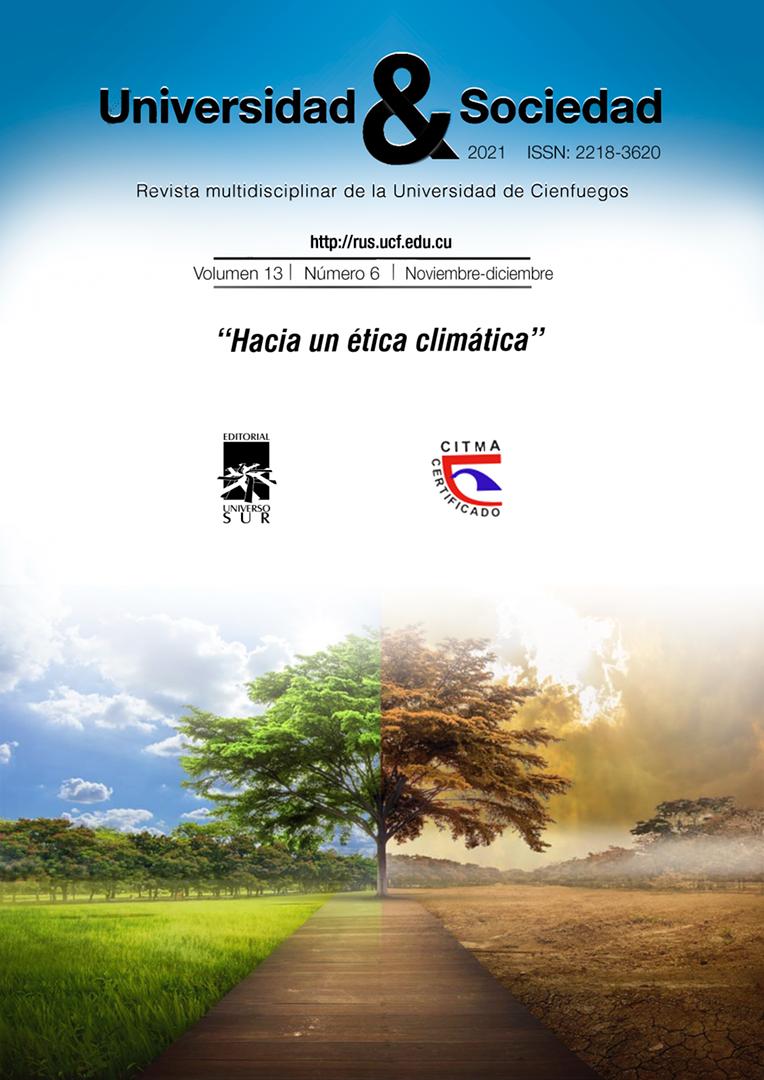 Cómo citar
M. Olenev, S., P. Yatsenko, N., Martynenko, E. A., Kuznetsova, V. V., Stepanova, L. A., & Huseyn Ahmadov, H. (2021). Problems of implementing distance learning technologies in classical choreographic education. Universidad Y Sociedad, 13(6), 225-231. Recuperado a partir de https://rus.ucf.edu.cu/index.php/rus/article/view/2386
Esta obra está bajo licencia internacional
Creative Commons Reconocimiento-NoComercial-SinObrasDerivadas 4.0
.
La editorial "Universo Sur", de la Universidad de Cienfuegos, publica el contenido de la Revista "Universidad y Sociedad" bajo una Licencia Creative Commons Atribución-NoComercial-SinDerivar 4.0 Internacional.
© Podrá reproducirse, de forma parcial o total, el contenido de esta publicación, siempre que se haga de forma literal y se mencione la fuente.