New information technologies as the basis for improving the quality of higher professional education
Resumen
At the present stage of development, the level of education of an individual, his/her intellectual and creative potential, his/her ability to develop and use breakthrough methods in science and production are a determining factor. This situation actualizes the need to use modern didactic support for the processes of building and developing new knowledge and skills, the active use of innovative pedagogical technologies and multimedia training courses, i.e. all the innovations that contribute to improving the quality of education. Already the first experience in the introduction of computer and information technologies has significantly improved the methodology for selecting the content of professional training of specialists; improve planning, organization, management, control, and quality of the educational process; improve the quality of education, its individualization; to identify new forms of interaction between a teacher and a student in the learning process, qualitatively changing the content of their activities. Under the conditions of informatization, a contradiction between the achieved level and the necessary level of specialist education was clearly manifested. It should be noted that professional teacher education (in contrast to other areas of education) is distinguished by the availability of its own line of development with complex and peculiar dynamic. And this is natural, because such a situation reflects the trend in the formation of the social relations regulation system, including also means of pedagogical activity. All this became the motive for choosing the topic of our study.
Keywords:
Informatization, information space, education system, professional and pedagogical activity, quality of education, information technology.
ABSTRACT
En la etaa actual de desarrollo, el nivel de educación de un individuo, su potencial intelectual y creativo, su capacidad para desarrollar y utilizar métodos innovadores en la ciencia y la producción son un factor determinante. Esta situación actualiza la necesidad de utilizar el soporte didáctico moderno para los procesos de construcción y desarrollo de nuevos conocimientos y habilidades, el uso activo de tecnologías pedagógicas innovadoras y cursos de formación multimedia, es decir, todas las innovaciones que contribuyen a mejorar la calidad de la educación. Ya la primera experiencia en la introducción de tecnologías informáticas y de la información ha mejorado significativamente la metodología para seleccionar el contenido de la formación profesional de especialistas; mejorar la planificación, organización, gestión, control y calidad del proceso educativo; mejorar la calidad de la educación, su individualización; Identificar nuevas formas de interacción entre un docente y un alumno en el proceso de aprendizaje, cambiando cualitativamente el contenido de sus actividades. Bajo las condiciones de informatización, se manifestó claramente una contradicción entre el nivel alcanzado y el nivel necesario de educación especializada. Cabe señalar que la formación del profesorado profesional (a diferencia de otras áreas de la educación) se distingue por la disponibilidad de una línea propia de desarrollo con una dinámica compleja y peculiar. Y esto es natural, porque tal situación refleja la tendencia en la formación del sistema de regulación de las relaciones sociales, incluyendo también los medios de actividad pedagógica. Todo esto se convirtió en el motivo para elegir el tema de nuestro estudio.
Palabras clave:
Informatización, espacio de información, sistema educativo, actividad profesional y pedagógica, calidad de la educación, tecnologías de la información.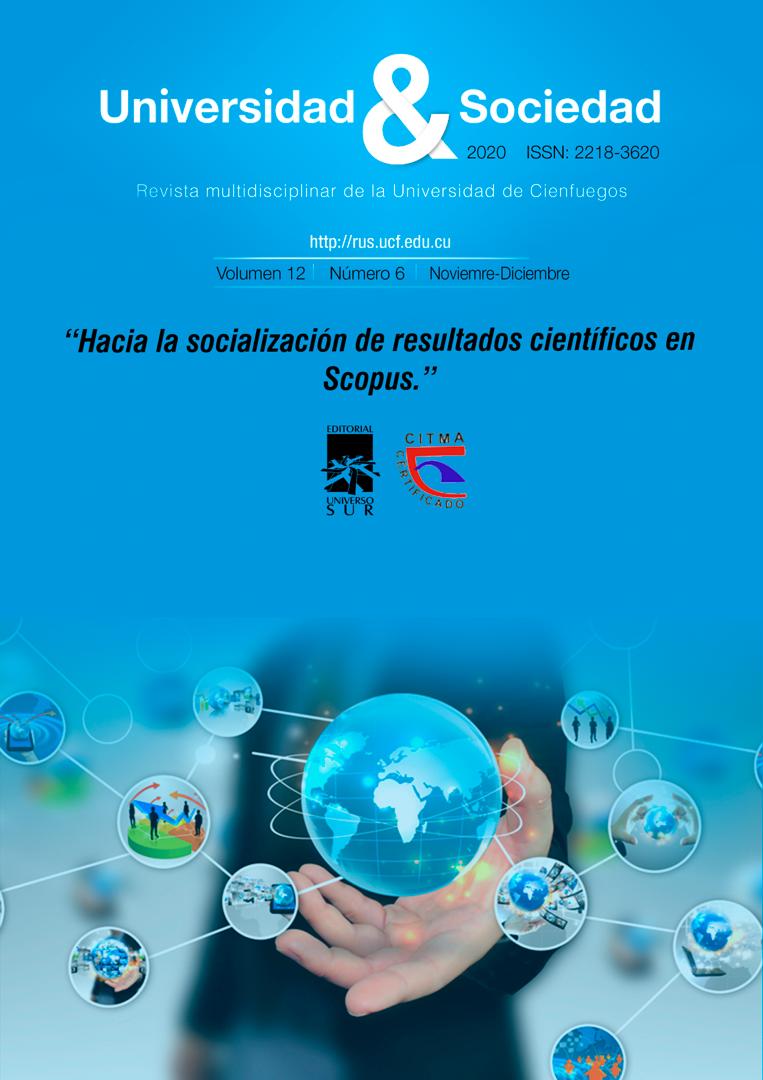 Cómo citar
Yuryevna Gulyaeva, T., Gennadyevna Kostenko, E., Vladimirovna Mirzoeva, E., Ivanovna Sharova, E., & Sergeevna Tolstykh, O. (2020). New information technologies as the basis for improving the quality of higher professional education. Universidad Y Sociedad, 12(6), 220-225. Recuperado a partir de https://rus.ucf.edu.cu/index.php/rus/article/view/1835
Esta obra está bajo licencia internacional
Creative Commons Reconocimiento-NoComercial-SinObrasDerivadas 4.0
.
La editorial "Universo Sur", de la Universidad de Cienfuegos, publica el contenido de la Revista "Universidad y Sociedad" bajo una Licencia Creative Commons Atribución-NoComercial-SinDerivar 4.0 Internacional.
© Podrá reproducirse, de forma parcial o total, el contenido de esta publicación, siempre que se haga de forma literal y se mencione la fuente.